Now that the weeks of daylily blooms are almost over, I think there isn't much blooming until I get out into the garden. After he got home this evening, DH and I took a spin around the yard. Yup, there is still a lot of color out there.
There are surprise lilies all over the yard.
The grass 'Morning Light' is one of my favorites. It always looks great.
And the zebra grass is another favorite.
The crepe myrtles are beginning to bloom.
This miniature crepe myrtle gets only about 12-15″ tall. I don't remember the name. The blossoms are just beginning to open. Soon it will be covered.
Here's a good place for viewing the front yard.
Yup, still pretty. 🙂
Hop over to Tootsie's and click the links to see what is blooming in other gardens.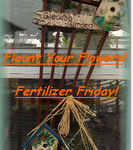 ~~Rhonda