The air was damp and chilly today. Hard to believe that in July we would have the air conditioning turned off for days in a row. And who would believe we would need to close the windows against the chilly air. But we did! The garden has enjoyed all the rain we've had for the past few months.
The black eyed Susans are a sea of color.
The tiger lilies are near the end of their bloom. A few last blossoms top the long lanky stems.
A helpful flickrite helped me ID this little green bug. I saw several of them on the tiger lilies. They are immature stink bugs. Never would have guessed that!
After counting the new daylilies, we found we bought 14 new ones last weekend. Four or five of those were mini daylilies. Mini doesn't necessarily mean a small plant. It refers to the size of the blossom. Miniature daylilies have blooms that are under three inches in diameter.
DH planted the mini daylilies in the fenced garden.
Zak watched from the comfort of the birdbath.
Near the edge of the woods, the garden phlox backs the last of the ditch lilies.
I think I'll get a blanket and watch one of my favorite shows…"Chopped." I'll see you in the garden tomorrow. 🙂 To visit other gardens (where it may be warmer!) click on over to Jean's place for Bloomin' Tuesday!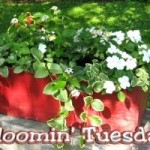 ~~Rhonda