We're enjoying this unusually cool weather. July tends to be hot and humid. Today, I think we had a high of 79* and the sun peeked out just once at the end of the day.
Most of the day, though, was cloudy in the garden.
After all the rain we've had, the weeds are tall but very easy to pull. We get tons of redbud volunteers and the rain made pulling them easy, too, as DH shows.
Even though the daylily season is waning, there is still a lot of color in the garden. The purple cone flowers certainly help with that.
The daylily 'Flasher' is at its peak right now. You can see this one all the way across the yard! Great color!
Need a place to rest or somewhere to enjoy the view? There's a bench waiting for you under the dogwood tree.
Aren't these colors yummy?
Sometimes, daylilies will have four petals and four sepals rather than the usual three each. Blossoms like this are called polytepal. 'Cosmic Pinwheel' had two polytepal blossoms. A third blossom had one extra sepal.
In the fenced garden, another bench waits for you. This bench is usually a sunny place to sit, but not today.
The daylily 'Frans Hals' is at its peak right now, too. How pretty is that?
The phlox makes a great splash of purple in the background. If you have the space, plant in drifts of color. So pretty!
At the back of the garden, a bed of daylilies separates two entrances into the woods. Which way do you want to go?
Coming out of the woods, you can rest under the mulberry tree…just push that elderberry out of the way. It's beginning to overshadow the bench. Time to get out the pruners.
In the back yard, near the daylily propagation bed, the pure white of the Southern Magnolia blossom looks so beautiful against the dark glossy green leaves. And the scent as you walk by? Wonderful!
The redbud tree by the wood chip pile was a volunteer. It sits at the end of the parking area and, at one time, was backed over by the car. But it bounced back. 🙂 I decided to leave it there as a guide to keep the wood chips from being dumped too close to the fenced garden
Coming back from the garden, I'm confronted by the kitties. "Where's supper??" they want to know. Left to right: Happy, Zak and Zilli. Oreo is nearby. He's waiting, too.
I hope you enjoyed the garden this evening. If you would like to see other gardens, click on over to Jean's place for Bloomin' Tuesday. Enjoy!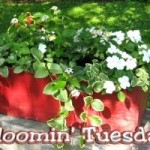 ~~Rhonda 🙂