It's a busy time in the garden right now. Lots of flowers, lots to see, lots to do!
This old fashioned yellow iris is a great performer in the garden. It will bloom continuously for a long time, filling the iris beds with large areas of color.
This large white iris was given to us by our friend Liz, many years ago. We call it "Liz's Big White." 🙂
The first daylily to bloom this season is 'Bitsy,' a small yellow one.
The hosta 'Candy Hearts' is sprinkled with the last of the dogwood petals.
The peonies have started to bloom. This is 'Honey Gold.'
'Shirley Temple' is a very pale pink peony.
Peony 'Krinkled White' is one of my favorites. The petals look like crepe paper.
We don't have many rabbits in the yard, thankfully. The cats keep the population down. But this one has taken up residence in the front yard.
We are preparing for a church picnic at our house on Sunday. Lots of yard work to do. We shall see if the weather permits us to get it done or not! DH and our nephew did get the fenced garden mulched, inside and out. It looks so nice!
That's one of my favorite places to sit in the yard.
You can enjoy more gardens at Bloomin' Tuesday at Jean's place.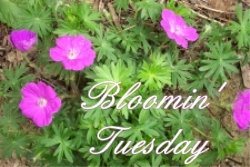 ~~Rhonda