The past week, the daylilies have been opening one after another. Every day, DH and I tour the garden to see what has opened. We are in the early to mid season now. We have more than 365 different cultivars, so there will be a lot more to bloom as June and July roll by.
Here's 'Novelty Number.' It looks like it has been brushed with paint. We bought this plant last year and it has multiplied well and has lots of blooms on it.
'Kindly Light' is a spider form. To be a "spider," the length of the longest petal has to be at least four times the width.
'Monterrey Jack' is one of my favorites. I love the clear yellow, the large flower, and the pretty eye zone.
'Window Dressing' is one of the "white" daylilies. Most whites are tinged with another color or have a contrasting throat, often green or yellow.
'Strawberry Candy' was one of our earlier purchases and is still a favorite.
'Angel Artistry' gets a lot of comments from garden visitors.
'Siloam Double Classic' is a beautiful double daylily. Love the soft pastel coloring.
Sometimes a plant will have a polymerous (also called polytepal) bloom. One having four petals and four sepals (or more) rather than the normal three each. Here is 'Moonlit Masquerade' with a polymerous bloom.
Here is a picture of the same plant with the usual blooms.
Another personal favorite is 'Little Rainbow.' This one should be seen close up and in person to truly appreciate its subtle beauty. If you click on the picture, it will take you to the picture on flickr.com and you can click ALL SIZES to enjoy a larger photo. It is a polychrome, which means the colors blend and mingle without distinct bands. This daylily has a yellow base with a pink overlay.
I have more to share, but that's probably enough for this post. 🙂 You can enjoy other gardens, with other flowers, at Jean's Bloomin' Tuesday.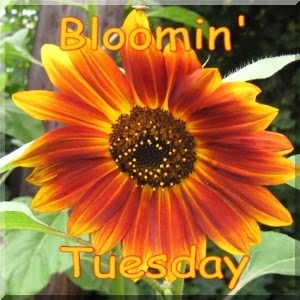 I'll be posting more daylily pictures as the days go by. We often have plant sales (all proceeds support the mission projects of our church). If you are local and would like some daylilies or other garden plants, we would be glad to have you stop by. If the clump is old enough and big enough, we are always happy to dig double fans of the daylilies. Locals only, please. We haven't done any shipping and aren't equipped to do that.
~~Rhonda