After two months of cooler than normal temps, we're back to hot and humid weather. And when it gets hot and humid, I tend to stay indoors, except to mow the lawn when it needs it. But today, I ventured out to take some pictures, since it has been so long since I've done that.
There are large swathes of black eyed Susans in the yard. And they are still producing lots of bloom and color.
There are still quite a few daylilies showing off their final blossoms.
'Carolicolassal'
'Lavender Luxury'
This unknown daylily is in full bloom right now. It is taller than I am and is the latest bloomer in our collection of daylilies.
And one of my favorites…we gave this one the garden name of "Paprika" because we don't know its real name.
The garlic chives are beginning to bloom. A large bunch of these is really pretty, with the stems all bending in the same direction and the buds opening a few at a time until there's a sea of white.
The 'Royal Standard' hostas are blooming. A beautiful bright white, they have a wonderful sweet fragrance. This particular plant lost its sheltering redbud tree last year. We need to move it to a better location. Somewhere it won't get so much sunburn.
I don't remember which hosta these purple flowers were on.
The crepe myrtle is a great shrub for color this time of year.
The garden bench under the mulberry tree is a bit overwhelmed by hostas and elderberries.
Aren't the elderberries pretty?
We had a little sprinkle of rain this afternoon, but it didn't amount to more than a few drops on the redbud leaves.
We can see this hibiscus from the kitchen windows. The flower is about 12″ across and a beautiful rosy pink color. It's called 'Sante Fe.'
We don't have many annuals or container plants, but I do love this large pot of coleus that sits by the back door.
I hope you enjoyed the garden walk. If you would like to see other gardens with beautiful blooms, click on Bloomin' Tuesday.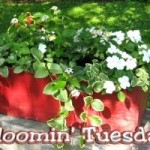 ~~Rhonda