DH took DD and her friend to Six Flags today. They had a nice day for it. And, according to the occasional updates I've been getting, they are having a great time, too. I've certainly enjoyed a nice quiet day at home. I mowed the entire yard. Then said goodbye to my mower as it was taken off to the shop for a checkup and blade sharpening.
In the fenced garden, the bare spots where DH took out all the over zealous lemon balm need to be filled in with something new. We'll have to ponder that.
This bee seemed deliriously happy in the hollyhock.
The surprise lilies are popping up all over the yard. Look at all those little ones coming on. There were surprise lilies in the yard when we bought the house, but these, in the fenced garden, are from my grandmother's yard.
The garden phlox is blooming like crazy. And it makes the garden smell so good.
The tallest daylily in our garden opened for the first time today. We don't know the name of it. It's a very late bloomer and extremely tall.
Ack! What's this?? Red sassafras leaves… You know what this means?? Before we know it, autumn will be here. ::sigh::
And the little wild asters are starting to bloom, too. Another sign of fall.
But I'm going to play Scarlett for now and think about that tomorrow. After all, tomorrow is another day…
While I'm not thinking about fall, why don't you join me as I peruse Outdoor Wednesday at A Southern Daydreamer's blog. Let's see what everyone else was up to today.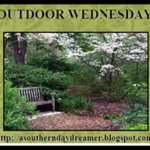 ~~Rhonda