Between piano lessons this morning, the mower not starting this afternoon, and softball this evening, I missed a lot of garden time today. How sad is that??
I did get some pictures this evening, just as the sun was going down. Thanks to my nice camera and the great lens DH gave me for my birthday.
The purple cone flowers look great right now.
Daylily 'American Revolution'
Variegated ribbon grass ~ Phalaris arundinacea
We don't know the real name of this daylily, so call it "Paprika" as it is the color of dark rich paprika.
Miscanthus sinensis 'Morning Light' and the daylily 'Arctic Snow.'
I don't know the name of this lovely lily. To tell you the truth, I don't even remember the plant! It's one of those "did I plant this here??" plants.
The little daylily 'Eenie Allegro' is blooming happily, even though it's in too much shade. We need to move these this year.
Looking across the east front yard.
The garden is in full flower and so beautiful right now. We enjoy every minute we can be in it. Tomorrow we are having a plant sale and the weather is supposed to be great…high of 84*. Wonderful after the triple digits of the past few weeks.
If you want to enjoy other gardens and their blooms, visit Jean's Bloomin' Tuesday. You never know what kind of inspiration you might find!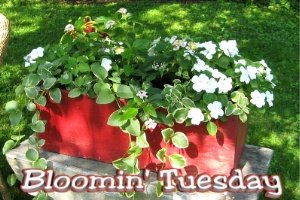 ~~Rhonda