The cooler temperatures haven't bothered the garden. Things are growing beautifully.
Hosta 'Samurai'
'Liberty'
Peonies are beginning to bloom.
'Festiva Maxima'
'Flame'
The iris show is beginning. 'Raspberry Blush' is one of our earliest.
DH did a lot of mulching this week.
And we enjoyed our first lettuce and spinach from the garden.
Yum!
I love this time of year. Everything is fresh and lush and the temps are enjoyable. I hope you're able to get out to putter and work in a garden.
You can visit other spring time gardens, or post your own, at Tootsie Time.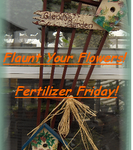 ~~Rhonda