The forecast is for a lot of rain the next seven days. I took advantage of the one sunshiny day to get outside, enjoy the garden, and mow the yard.
Under the apple trees, there is a large and spreading colony of wild blue phlox, also called wild Sweet William in these parts.
The bridal wreath spirea is beautiful right now. A week of rain will be the end of it for this season. I often see spireas sheared off, not allowing them to take their natural spray form. A shame for such a beautiful shrub!
The Honesty is blooming all over the yard. Also known as "money plant," it is easy to get started. It self-sows and will be in the garden for many years. After the plants have bloomed, set seeds, and dried, we pull the plants and throw them into areas of the garden or woods where we'd like to see the pretty purple blooms in the spring. The seeds don't have to be planted. Just drop them where you want them. Being a biennial, it will take two years to bloom and you have to take care not to pull out the non-flowering plants the first year, but after that, there will be blooms every year.
Honesty and Hosta 'Emerald Tiara'…isn't this a pretty combination? I love the way the bright yellow-green compliments the purple.
The Bleeding Heart is pretty with the Honesty, too.
We have columbine in a lot of the garden beds around the yard. It's just beginning to bloom. This plant is a bit ahead of the others.
Candytuft 'Snowflake'…I wish we had more of this. It's a pretty front of the border plant with bright white flowers.
These happy little flowers just pop up where ever…Johnny-Jump-Ups…even their name is happy.
I did spy the garden fox this afternoon. But as soon as he? she? saw me, it flashed back into the den. Just look at that bright little face.
I hope you are finding old friends and new surprises in your own garden.
Enjoy other gardens at Tootsie's Fertilizer Friday.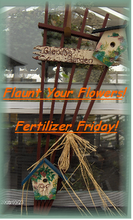 ~~Rhonda