I love this time of year. Green leaves and colorful flowers are coming up all over the garden. Growing faster than seems possible.
The first iris of the season bloomed on April 9. 'Baby Blessed' is a dwarf reblooming iris.
The Southern Oak is sprouting fresh new leaves.
DH cleaned the veggie garden beds and planted more lettuce and radishes as well as green beans, peas, sugar snap peas, cuke and squash.
The first black swallowtail butterfly of the season was found on the lilacs Sunday morning.
More hostas pop up every day.
'Squash Casserole'
'Journey's End'
'Emerald Tiara'
'Mildred Seaver'
'Forest Fire'
'Spritzer'
And don't forget the redbuds…they're in full bloom. Come by and enjoy!
Visit more spring gardens at Tootsie Time's Fertilizer Friday.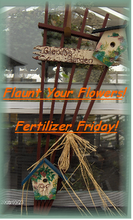 And visit Garden Bloggers Bloom Day to follow the links to more beautiful gardens.
~~Rhonda