Currently, we have 375 daylilies in our database. As of yesterday, 99 of the cultivars have bloomed. Only 276 to go! Keeping up with FFOs (first flower out) right now is keeping us busy. Here are a few pictures from the garden this morning.
This picture from the front of the house does not show you how very weedy those beds actually are. We want to remove all the plants from the middle of the driveway and add soil to bring the beds up high enough that they don't flood when it rains, so we've been letting those beds go a bit, taking out plants now and then. It's a big project that we need to tackle head on at some point.
Daisies and 'Riseman's Flame' daylilies
'Shell Drake, MI' on the left and 'Little Fat Dazzler' on the right. Both lovely. I am partial to the mini and smaller flowered daylilies, to some extent. 'Little Fat Dazzler' is one of my favorites. It's a red coral color. Very pretty! And it makes proliferations like crazy.
The Russian Sage is putting on blossoms, as well. This is a great plant for fill. Light and airy, lots of bloom, silver foliage. Always beautiful.
More daylilies. I am also partial to the red ones… 🙂
'Sirocco' and 'Happy Returns'
You can visit more blooming gardens at Tootsie's place. Read her post, then scroll down and click on the links.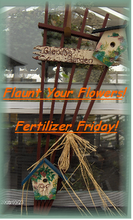 ~~Rhonda