The weather was beautiful yesterday and I was able to get out for some picture taking opportunities.
Tete-a-Tete daffodils are sprinkled all over the yard. These are near the back door.
In the east yard, the Star Magnolia is beginning to bloom.
Looks like a snowstorm doesn't it?
Close-up, the blossoms are ivory colored. When they open, they will be a lovely soft white.
'Ice Follies' daffodils bloom in the front yard.
The red shoots of peonies are breaking cover. These are next to the mailbox.
Cheery, cheery daffodils…
Daylilies are greening the little woods behind the house.
And the bloodroot is popping up in the woods, too.
The bloodroot flowers are some of the brightest white blossoms we have in the garden.
Bluebells are showing their buds.
And near the front door, these late blooming crocus adorn the pine stump.
We plan to work in the yard for a while today. Temps are supposed to be 65* or better. We have some veggies to plant, too, so will try to get that done today. The spinach and lettuce are already coming up.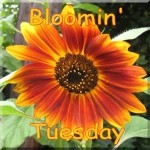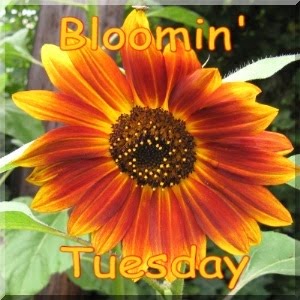 Stop by Jean's at Bloomin' Tuesday to see what is blooming in other gardens!
~~Rhonda