The weather this weekend is gorgeous. Not regular July weather at all. I think the high today was all of 76*. What's with that?? We would expect it to be much warmer. But I'm not complaining! It was a beautiful day and Saturday is supposed to have a high of around 70*. Wow. As we drove through the country today, I took this picture of the fluffy clouds.
Though the daylily season is on the downhill side, the yard is still full of lovely blossoms.
'Dragon King'
'Modern Love'
'Cherry Cheeks'
'Swelling Anthem'
I love the subtle blending of colors on this bloom. I'd like to collect more of Brother Charles Reckamp's daylilies. 'Little Rainbow' and 'Techny Breeze' are two of my favorites in our garden.
Tiny blue butterfly.
Someone nearby must have bee hives. We see quite a few honeybees in our yard.
I don't know which hosta this is, but it's looking very good this year.
This is the most sun 'Daybreak' gets all day, yet it maintains its beautiful pale yellow green color and brightens this dark corner.
We've neglected our hostas this year and they seem to be thriving on the neglect. Or they are bouncing back from the hard freeze they
experienced two years ago. Anyway, they're looking good!
'Paradigm'
Before you go, click on over to Tootsie's place and visit other gardens to see what's blooming there.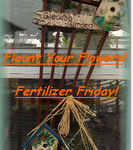 Now get out there and enjoy the weekend!! ~~Rhonda 🙂