More than most other days of the week, Wednesdays tend to concentrate on the garden. DH is off work (other than spending much of the morning doing paperwork) and we often host plant sales on Wednesday afternoons, as DH is here to dig for our customers.
It's cloudy today and only 75*, though humid. Sprinkled this morning, so everything is wet. Here's a picture of just outside the back door. Most of this is shaded by a very large old oak tree, so we have a lot of hostas here.
DH was home earlier than usual today, so he went out and worked in the garden pulling weeds. Our garden helper Eliot was working in the fenced garden which had become overgrown, so DH worked there, too. He dug lemon balm from the garden, inside and out. That pile in the lower left of the picture is all lemon balm.
And he pulled some miscellaneous weeds and small trees from this nearby garden under a redbud tree.
We hire Eliot to pull weeds in the garden five hours a week. We couldn't keep up with the chore without his cheerful help!
The fenced garden looks great now. And you can walk through it without forcing the weeds aside. 🙂 We love this Rubbermaid wheelbarrow. What a work horse! We've used it for years and it just keeps going. A plus is that it carries water without leaking. All kinds of useful applications from hauling water to holding plants until they can be placed in the ground.
We went to the front fence to write plant sale times on the sign and I took this picture, looking back toward the house. I still need to do something about those upstairs window treatments. They look so stark. Didn't show from the road until we took out two big pines last year, so I never noticed what those windows looked like from the yard before then.
The recent rain has done a number on the Russian sage.
This is one of our "unknown" daylilies. If you know the name, give me a shout!
Some of the hostas are still blooming.
Miscanthus 'Morning Light' is one of my favorite grasses in the yard. It's beautiful every season of the year.
We had a plant sale this afternoon. All the monies we raise from plant sales goes into the mission fund at church.
Between customers, DH weeded around the redbud tree. We put two wagon loads of wood chips on the bed after DH finished pulling the weeds. He also dug out the irises and the daylilies that were growing here. They need to be moved to sunnier locations.
The tiger lilies always bloom in July and they are so pretty right now.
If you enjoy being outside, you may like to see what others did outside today. Take a look at Outdoor Wednesday.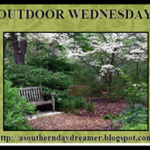 And to enjoy perusing what is blooming in others' gardens, visit July 2009 Bloom Day. Lots to see there!
~~Rhonda