I took a few pictures as I mowed this morning.
Daylily 'Cavern'
'Jedi Tequila Sunrise,' daisies, and Lemon Lilies (yellow daylily)
The tiger lilies (Lilium Tigrinum) came from DH's family farm.
The hosta 'Janet' has thrown an all green sport. We need to separate that and replant it elsewhere. Maybe we've got 'Janet's Green Sox.'
Hostas 'Samurai' and 'Waving Wuffles'
Hostas 'June' and 'Moonlight Sonata'
After the four inches of rain we had on July 4, I wasn't sure I'd be able to mow the entire yard. We have some low spots that can stay wet for a while. But I got it all done. And enjoyed all the flowers and hostas at the same time. 🙂
You can see more gardens at Jean's Bloomin' Tuesday. Check them out!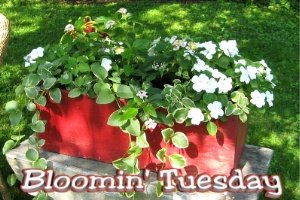 ~~Rhonda