Last evening, I took a few pictures as we documented "first flower out" on the daylilies. If you don't know what that means…we keep a record of when the first flower appears on each daylily every year. That shows us this year, for instance, that the daylilies are blooming 5 to 7 days earlier than last year. Interesting to us, if not to anyone else! ;-D Anyhoo, here are a few pics from the yard.
I like the way the centers of the purple cone flowers pick up the color of the 'Baja' daylily blossoms.
We have clumps of daylilies that haven't bloomed yet.
Can't get enough of the garden when it's daylily season.
There are other things to see in the yard besides the daylilies, though. Queen of the Prairie is blooming by the garage.
And hostas are blossoming.
Don't the hydrangeas look great?
The butterfly bushes are attracting butterflies and all kinds of other insects.
A gaggle of gooseneck loosestrife…they are wonderful in bouquets, lasting weeks.
We had a little rain shower this afternoon. I took these pictures from under the carport.
Come by. We'll sit in the swing and watch the butterflies flutter by. Iced tea or lemonade?
Enjoy others outdoor activities at Outdoor Wednesday. Check it out!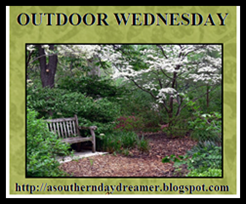 ~~Rhonda 🙂