There is so much going on in the garden this week that I don't know where to start. Spring lingers in the peonies and the irises. Summer beckons as the daylily scapes begin to shoot upward.
The columbine are setting seed. They self sow easily. If you have a columbine plant, you'll find new plants in the bed next year. If you want to save seed to sow them where you want them, wait for the seedpods to turn brown. When they begin to split, collect the seeds. These columbine are hybrids, so the new plants may not look like the parent plant. But they are all beautiful.
Carpenter bees chew wood, but do not eat it. They consume nectar and pollen like they would find on this columbine, pollinating as they feed. Male carpenter bees do not have stingers. You can tell a male carpenter bee by the white spot on its face. They are very curious and will buzz around people but are not aggressive. My grand-daughter was excited to actually touch one as it hovered near her on the east porch the other day.
Peony 'Monsieur Jules Elie' looks great paired with Siberian iris 'Caesar's Brother.'
'Monsieur Jules Elie'
The peonies that opened first are now finishing their bloom time. But others are just opening, like 'Nymph.'
Another late blooming peony…just getting started.
The iris 'Alabaster Unicorn' has a unique pointed beard, like a unicorn's horn. It's a beautiful clear white with yellow beards and white horns.
Yellow Flag Iris
The hostas seem particularly vigorous this year. Anyone else having the same experience?
Hosta 'Squash Casserole'
The hosta 'Big Mama' has been in our garden for several years. It hasn't done much until this year, but this spring it has certainly taken off.
Hosta 'Golden Meadows'
Hosta 'Midwest Magic'
The hosta 'Love Pat' languished in the garden until we moved it to this bed. Now it's looking much better. Sometimes you have to move them around until you find the place they like.
The hosta on the left is 'Orange Marmalade.' The large green one behind it to the right is a sport from the 'Orange Marmalade.' A sport is a shoot of a plant that is different from the original. Amazing that it can be SO different, isn't it?
The rhododendron in the front yard has finished blooming, but the one in the back is just getting started.
The Queen Anne's Lace had reseeded itself in the yard. We dig a lot of it out, but do like to leave some because it's a host plant for Black Swallowtail caterpillars.
False Indigo…a great plant for the garden, if you have room. It can grow four feet tall and spread as much as six feet wide. When you plant it, be sure you want it there because it does not transplant well. It's a native Illinois prairie plant and likes full sun.
Lacecap hydrangea
All the hydrangea bushes are loaded with blossoms this year.
I took a lot of pictures today, but I'd better quit here. Why don't you sit in the garden for a while and relax? You are always welcome!
You can visit other gardens at Tootsie's Fertilizer Friday link party.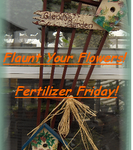 ~~Rhonda