We have several different kinds of tall grasses in the garden. This one, called 'Morning Light' is beautiful in a breeze.
A bit hard to see the variegation of the grass in this picture, but the tall grass in the background is zebra grass. This is a favorite when we have plant sales.
The tall pampas grass occasionally reseeds itself in a nearby flowerbed. We'll dig it out and offer it at a future plant sale.
This 'Royal Standard' hosta at the front steps has become quite large. It has beautiful clear white flowers.
The hydrangeas at the front of the house are covered in shades of pink, lavender and purple.
Can't have too much Russian Sage. This airy blue-lavender plant is a beautiful addition to the flower beds.
Here are a few of the daylilies in the garden right now.
'Little Grapette'
'Zarahelma'
'Frans Hals'
'Heaven's Trophy'
'Carmine Monarch'
'Ice Carnival' with a bitty ladybug.
Every walk through the garden is a special treat. If you're in the area, feel free to stop by and enjoy the yard!
You can visit other gardens by clicking the links on the Fertilizer Friday post on Glenda's blog.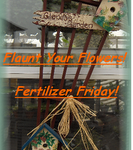 ~~Rhonda