The daylilies are remarkable right now. Lots of blooms, lots of color, lots of wonderful fragrance in the garden.
The Japanese beetles have arrived and are leaving a few holes here and there. Thankfully, they do not eat daylilies!
I've been checking the Queen Anne's Lace for butterfly eggs, but haven't found any yet. Perhaps it is too early in the season. We hope to raise butterflies from eggs. We did this two years ago with eggs we found in the garden on parsley and Queen Anne's Lace.
You can visit more gardens at Fertilizer Friday.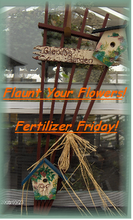 ~~Rhonda