I don't know about you, but in my book (official calender designation not withstanding), the end of May is the end of spring. June 1 brings summer, not June 21. For me. In my garden. In my mind. And I can see summer coming on strong as I take a look around the garden. I don't get tired of checking out new blooms, fading flowers, and garden visitors. What's coming, what's going? What's blooming, what's not?  Which birds are in which part of the yard?  Was the rabbit in the front yard?  Were there deer in the woods?
DH and I often tour the garden together in the early evening. The light is always pretty that time of day. And there is always something new to discover. As I looked at the new seedpods of the blue false indigo, with the sunlight behind it, I saw drops of water inside the pods…never saw that before…
And the ribbon grass is so pretty with the light of the setting sun behind it.
And there's the bunny that lives in the front yard.
Our catalpa tree blooms two weeks later than most of the other catalpas in town. Not sure why.
Lots of nooks and crannies in the garden. Some I visit almost every time I go outside. Some I see less often. I do like to check the fenced garden to see what's blooming there.
As the summer sun strengthens, we'll see how some of the hostas will perform. 'Squash Casserole' doesn't mind quite a bit of sun, so I think it will do well in this spot west of the front porch.
Did you notice the hydrangeas in the photo above? One of my favorite flowers of early summer.
Several daylilies are already blooming well, including 'Eenie Gold Victoria,' 'Stella de Oro,' and 'Black Eyed Stella.'
'Black Eyed Stella'
Friday evening, we saw the first flower out (FFO) on 'Nefertiti' which was planted last year. Often the FFO on a daylily is not well formed, but this one looks lovely and has beautiful color.
Since I wrote this post, the daylilies have started blooming in earnest. I'll post pictures of those soon. To visit other gardens, click on this link to Bloomin' Tuesday and check the posted links. Enjoy!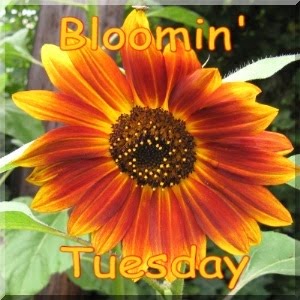 ~~Rhonda