The irises are done, except for the last few stragglers. And the daylilies are not in full swing yet, though the first few have been showing themselves now and then. It's that in between time in the garden, the lull between spring and summer.
The coreopsis is providing the main color in the garden for now.
After supper, when we walked around the yard, it was cloudy, sprinkled a few times, and there were raindrops on everything. The air had cooled and there was a beautiful breeze. A nice evening.
DH pulled a few saplings from flower beds. A never-ending job!
There are a few hosta plants left in the bed that used to be sheltered by a crabapple. That tree is gone so we've been moving those hostas to other beds. This evening, DH moved 'Heart Song' to one of the redbud trees.
Just before it became too dark to stay outside, we were driven from the garden by great plops of rain. We're looking forward to a long weekend and hoping there will be time for more gardening…and bike riding for DH…and Memorial Day activities for the whole family. And, I'm hoping, more blog posts than I've managed lately! 🙂
I'm posting this to Fertilizer Friday on Tootsie's blog. Check it out for more gardens to explore.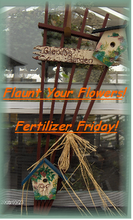 ~~Rhonda