Last Thursday, we had a beautiful day. Started around 70 degrees and didn't rise above 82. I went out in the morning to get some garden pictures. Had a great time, enjoying the weather and the garden.
Hosta 'Squash Casserole' under the Japanese maple.
This hosta, 'Ventricosa,' came from my paternal grandmother's garden. Family members, if you'd like a start, let me know. We're happy to share. I also have some of Grandma's lily of the valley that grew under the shrubs along the porch, and some of the surprise lilies she had planted along the veggie garden. If you'd like a start of any of those, just say so. We'll dig some for you.
Saw some little garden critters out there. Not sure what this one was…I snapped it accidentally while taking a picture of the catnip.
The wood bees love the catnip, too.
This little Cabbage White butterfly was more interested in the 'Six Hills Giant' catnip. Though, I'm wondering if this catnip was mislabeled by the nursery…it isn't a very tall plant.
Found a little Spotted Lady Beetle on the daylily 'American Revolution.'
Queen of the Prairie 'Rubra' is blooming. It took a few years to become established, but has made a nice patch by the garage door.
This gooseneck loosestrife is a great bouquet flower. It adds an interesting form, but also remains fresh looking for at least two weeks.
The "ditch lilies" (actually growing in the ditch) are drawing close to the end of their bloom time.
We have raspberries!
Hosta 'Northern Exposure'
Daylilies 'Big Smile'
The last of the Asiatic lilies were blooming. I need to add more of these to the garden, to extend their bloom time and to fill the bloom space between the peonies/irises and the daylilies.
I love the blue airiness of the Russian Sage.
The daylilies are at peak bloom. If you're local, come on over and walk around the garden. We love to share it.
Love the daylily season!
Check out Bloomin' Tuesdays at Jean's blog to see more gardens and lovely flowers.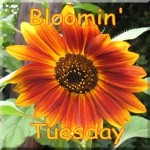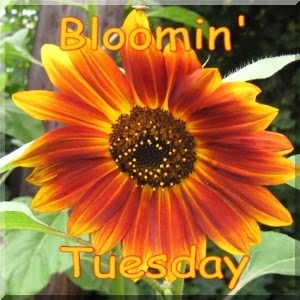 ~~Rhonda