Wednesday, DH and I were able to get out into the garden for a bit. It was a little cool, but sunny.
The light purple crocus are up, but the day was too cool for them to open, so they were just peeking out.
The daffodils are leaping sunward.
These are 'Von Sion' daffodils. The bulbs came from DH's family farm.
This particular patch of trumpet daffodils are usually the first to open in our yard. They look like they are ready to pop!
The achillea looks soft and tender here, but what a garden thug! We are still digging it out of the garden beds. It's a great plant for places where it can spread at will…just not good for a garden bed where it overruns the neighbors.
The star magnolia almost looks like a pussy willow right now. The first few buds have burst their sepals, though, and soon they will open beautiful creamy white blossoms with a heavenly scent.
'Jane,' another magnolia, is a later blooming pink flowering shrub. It is usually late enough to miss the last frosts.
Here it is in April of last year.
We spent most of our time outdoors clearing flower bed debris. DH trimmed the butterfly bushes back to about 18″. They will grow back out to 8′ or so by the end of the growing season.
He also cleared a lot of the autumn aster stems. I think we took six wagon loads of these to the compost pile.
It was a beautiful day. Blue skies, sunshine and a greening garden. It won't be long before the neighbor's beautiful white oaks are leafed out, but for now, we enjoy their silhouette against the early spring sky.
I hope you are finding signs of spring to enjoy in your own yard or garden. And head over to Glenda's at Tootsie Time and check the links to see what's happening in other gardens.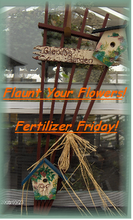 ~~Rhonda 🙂