We were gone for five days and when we got back, it seemed the garden had suddenly become lush and full. Perhaps that's just my perspective, but I think, too, the rain we had gave everything a big push.
The fenced garden is already looking overgrown. And I had hoped to plant some herbs in there this year…
The columbine is in full bloom. From the old red and yellow columbine, through the singles in many colors, to the doubles…
We have a large bed of columbine at the front of the house. So pretty right now!
The clematis 'Nelly Moser' is climbing through the hydrangea bush by the front porch.
The Korean lilac is blooming. We lost one of these last summer, and are not sure why it died. Part of this bush has died, too. Waiting to see if it will survive the season.
Near one of the beds in the front yard, the Johnny Jump Ups have appeared en masse.
At the west gate to the fenced garden, Salvia 'May Night' is just beginning to shine.
Blue False Indigo is native to the Midwest, so it thrives during our hot and humid summers. Plant it where you are sure you want it because it has a long tap root and extensive root system and is, therefore, difficult to move.
Extending springtime just a bit longer, some of our Poet's daffodils have just bloomed. Most of them were done a week or so ago. Perhaps they are planted deeper than their friends were?
The irises are beginning to bloom. 'Congratulations' opened yesterday.
I'll save all the lovely hosta plants for another post. They are coming on strong this year and are looking great!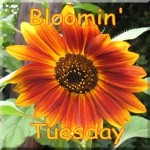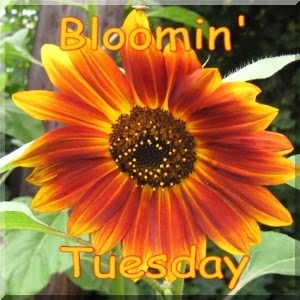 You can visit other gardens at Bloomin' Tuesday.
~~Rhonda