I took these shots to share on Tuesday, but life got hectic for a few days, so am sharing them now.
The columbine has come on thick and fast this week. It's a nice long bloomer and adds color to the beds this time of year.
My favorite columbine is the blue one…
I thought I might have missed the Spanish Bluebells while I was sick, but they opened this week. We have these in two places. I'd like to spread them around. Love the color.
The pump (small fountain) is running. We need to get some goldfish for it. Children always enjoy watching them dart around the bottom, as well as the fun of feeding the fish. Now that the weather is nice, we sit on the east porch after dark and listen to the fountain while we enjoy the scent of the lilacs.
Lilac 'Charles Joly' has been showy this year, though the color is lighter than usual. Not sure why.
If there's a breeze, we can also enjoy the soft sounds of the wind chime that hangs in the big oak behind the house.
The early purple irises are in full bloom all over the garden. These old irises came from DH's family farm.
The hostas continue to unfurl.
'Flower Power'
'Samurai'
Closeup of a 'Samurai' leaf…I like the corrugation.
'Guardian Angel'
Part of the hosta bed by the carport…Left to right:
'Forest Fire'
'Waving Wuffles'
'Samurai'
small dark green is 'Devon Green'
It's a lovely time of year. I hope you are getting outside to enjoy it!
You can enjoy more gardens at Fertilizer Friday.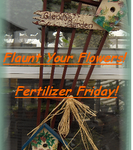 ~~Rhonda