The redbud blossoms opened Monday. The yard is full of billowing pink clouds of blossoms!
The redbud by the kitchen is the only one that was in the yard when we moved in. This year we have more than 20 blooming.
The daffodils are beginning to wane, but still look lovely. The Poet's are a later variety so they are in their prime right now.
The bluebells are one of my favorite spring flowers…though I might say that about *any* spring flower…
Magnolia 'Jane' in the evening light.
We're emptying the beds flanking the front sidewalk, so DH moved this peony to the new bed behind the addition. Not the optimum time to move a peony but it will do fine.
We also need to move the hostas that were under the crabapple tree. It had to be cut down last year and those hostas are now in full sun. Most will move near the back door, where we are restructuring the flower beds.
We moved the hosta 'Forest Fire' and it didn't miss a beat.
The fenced garden invites you to stop by and sit a spell. 🙂
You can visit more spring gardens at Bloomin' Tuesday. Enjoy!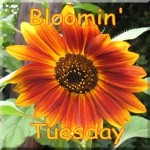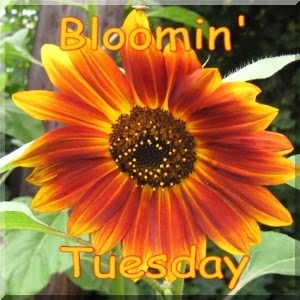 ~~Rhonda