The high winds we've had the past few days have knocked a lot of petals off the star magnolia, leaving a white blanket on the ground.
I took this picture of the apricot trees a few days ago. The winds have shattered the blossoms, but I can still smell their fragrance from the house.
Magnolia 'Jane' ~ This shrub has been in our yard for three years. It's a great bloomer!
DH plugged the fountain in and it started right up!
The daffodils are in full swing. The front yard is full of them. Here's a view looking toward the neighbor's house across the street. That's our driveway in the middle. The fence at the back of the daffodils marks the northern border of our yard.
Daffodils at the back door
Tiny daffodils 'Minnow' are about an inch across.
I wish I knew the name of this white daffodil.
We don't have many tulips, but these bright red ones have been returning for quite a few years now.
Hostas are starting to come up all over the yard.
In the woods, the bloodroot is almost done blooming. I took this picture a few days ago.
Our very own "This Old House."
You can explore other gardens at Tootsie's Fertilizer Friday. Check it out!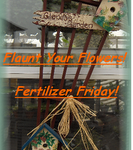 ~~Rhonda