While I'm still not up to par, I am feeling better. Coughing too much to go to church this morning, but well enough to walk the yard with DH this afternoon. Actually, he walked. I rode the mower. Less coughing that way.
Hydrangeas are easy to propagate and we should make more of the ones along the front of the house. The east side of the porch needs a few. The front of the house would look more balanced.
The east side has a nice rhododendron, but no other shrubs to give it structure. Nice hostas, though. And some pretty astilbe blooming right now.
The birdbath bed in the front yard is getting most of its current color from the coreopsis, but the daylilies are loaded with buds. More color to come in the very near future.
Common white achillea is an aggressive plant in our garden. I guess it's happy here, even though we try to irradiate it. But doesn't it look pretty while it blooms?
Oreo found the little volunteer patch of 'Zebrina' a nice place to stop for a rest. And just look at that wonderful mulch pile in the background. Fellow gardeners, feeling some envy here? We are grateful to our friend Paul who brings more when we need it.
'Zebrina' close up and personal.
The hollyhocks in the fenced garden come up where ever they like. And in any color they like. We've moved some to the fence on the west side of the yard in past years and they continue to come up there as well.
The hosta 'Pineapple Upside Down Cake' is a nice bright spot on the east side of the house.
In the back yard, we always leave a few Queen Anne's Lace to encourage the swallowtail butterflies to lay their eggs in our garden.
We have a few Louisiana and Japanese irises in the back yard. I used both 'Imperial Magic' and 'Black Gamecock' in the bouquet for church today.
Tomorrow will be a busy day around here, providing I feel up to it. But you can bet I'll be in the garden to see if any daylilies have bloomed. I'll let you know. 🙂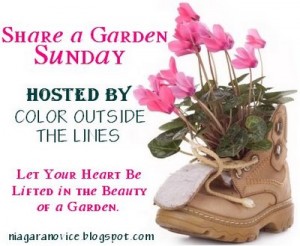 Take a break, visit Share a Garden Sunday, and enjoy more garden tours.
~~Rhonda