Yesterday I was able to spend a little time outside. The weather was beautiful. Autumn is changing the look of the garden. Things are winding down, the trees are beginning to turn, the grasses are yellowing. We saw quite a few Monarchs drifting through on their way south. Amazing that they can make a trip as long as 3000 miles to winter in the mountains of Mexico, then return in the spring. Watching them flutter around the flowers makes me wonder how they ever make it! A miracle of God's creation.
Most of the purple coneflowers have turned brown and are giving up their seeds to the little goldfinches. But some are still pinky-purple and orange. So pretty!
We have quite a few sassafras trees around the edge of the back yard. The leaves are always so pretty in the fall, turning yellow, red and orange. They are just beginning to show their color.
There are a few hosta blooms in the yard. 'Green Fountain' is blooming, as well as 'Red October.' Some hosta leaves are already brown and yellow. But there are still a lot of green leaves. And they look beautiful with the sunlight shining through them.
I'm amazed at how red these dogwood leaves are.
We'd like to be rid of bush honeysuckle, but the berries are very pretty in the fall.
Another lovely Monarch on goldenrod. Goldenrod always signals fall to me.
You can tour other autumn gardens at Tootsie's place.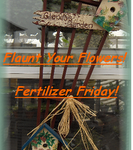 Another day and we'll be in October! September flew by. We plan to put up another Christmas tree tomorrow. We're going to try for the one in the guest room. I'll let you know how that goes. 🙂
~~Rhonda