With not feeling well so often and the temps being way too hot for so long, I haven't spent much time outside for a while. But Monday was gorgeous out and I rode the lawn mower around, pulling the wagon for DH while he pulled weeds and cleaned up around the yard. I was surprised to see how advanced the fall garden was already.
The hostas are turning yellow, even as the blooms hang on.
The garlic chives are in full bloom which is always a good indication that fall is on the way.
Various shrubs are showing off their bounty. The red twig dogwood is full of berries the birds will enjoy.
The beauty berry also has a bountiful harvest. I recently discovered that the berries can be made into jelly, so I'm going to give that a whirl in a week or so.
There are times I think the Sweet Autumn Clematis should be banned from the yard, but it is so pretty in the fall. It looks like a spring flower at the end of summer. It has a tendency to reseed itself and pop up even after several years. But in the right place, it is an amazing plant.
A few of the daylilies are reblooming right now, including this beautiful blossom 'Dawn Ballet.' The daylilies days are numbered, however.
'Autumn Joy' sedum is another iffy plant for me. If it would stand straight and tall, I'd love it, but it tends to flop in our garden. It does looks pretty here under the redbud tree, though.
The butterfly bush had its share of butterflies and bees. This Monarch stopped for a few minutes. It was beautiful against the purple-blue of the blossoms.
The white boneset was hosting a buckeye butterfly as well as a herd of soldier beetles. It was covered in them! They were munching away at the pollen, ignoring the hefty breeze. I always wonder how something as fragile looking as a butterfly or a small insect can survive a windy day.
The pampas grass is beginning to bloom. It sparkled in the sunshine. I wish the picture could show you how pretty that was.
My friend Charlene gave me a start of this grass. It is one of my favorites. So pretty on a windy day as it blows back and forth. Later in the season, it will have lovely plumes that will stay all winter, adding pretty interest to the garden.
I think some of the prettiest days of the year around here are in September and early October. The sky is so blue and the temps so comfortable, with a hint of autumn.
Last shot…our mailbox with the pampas grass in the background. We have a baby pampas grass that needs to be dug and moved, if anyone local wants it. Just let me know.
Hop over to Tootsie's site to see more gardens and beautiful blossoms.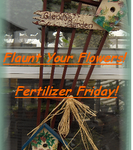 ~~Rhonda